Strawberry Black Pepper Macaron
Strawberry Black Pepper Macaron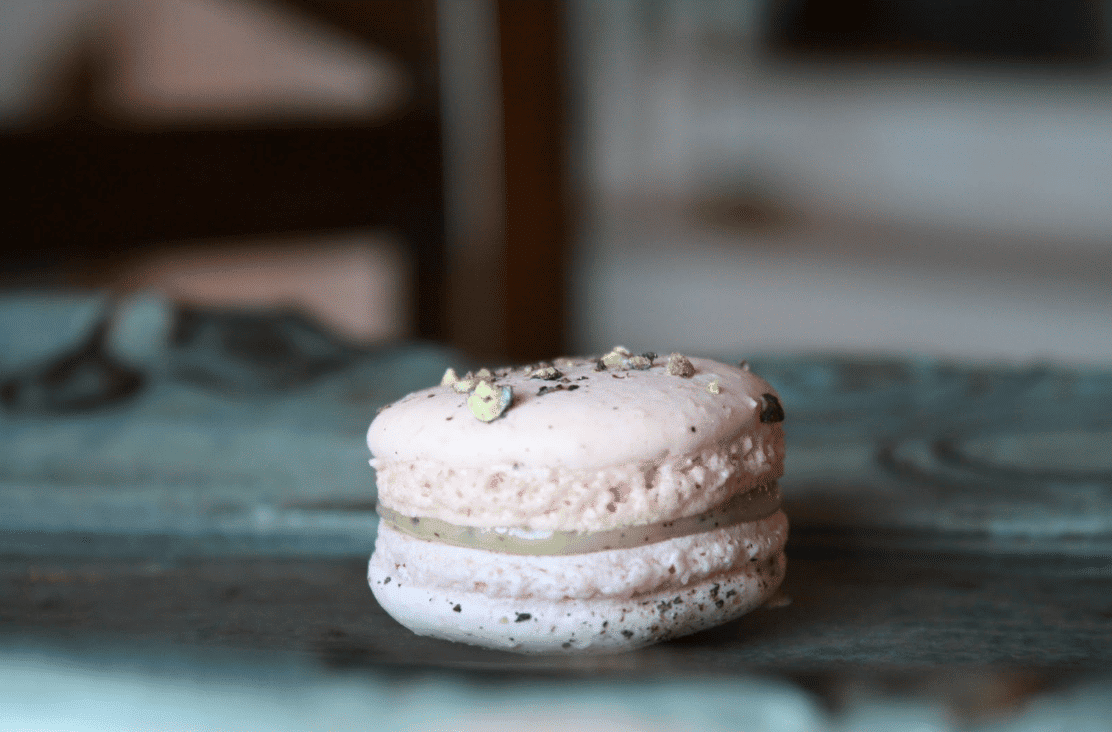 INGREDIENTS
Filling:
95g Heavy Cream

105g White Chocolate

1 Vanilla Bean

8g Cracked Black Pepper

200g Strawberries

20g Sugar

30g Lemon Juice

15g Cornstarch
Macron Shells:
160g Egg Whites

190g Sugar

190g Almond Flour

190g Powdered Sugar

50g Water

2 drops red food coloring
INSTRUCTIONS
To make shells:
1. Whip 90g egg whites to soft peaks. Meanwhile, heat sugar and water over medium heat to 118C.

2. Turn mixer to low speed. Add syrups to egg whites slowly.

3. Raise mixer speed to high and whip meringue to stiff peaks.

4. Sift together almond flour and powdered sugar. Mix in remaining egg whites and food coloring.

5. Once meringue has reached stiff peaks, gently fold half of the meringue into the almond mixture.

6. Fold in the remaining meringue until just combined. The mixture can still be slightly streaky. Do not overmix.

7. Pipe or scoop 1.3" circles onto a parchment lined baking sheet. Crack black pepper onto the shells.

8. Let shells rest 15-20 minutes until they develop a skin and are tacky to the touch.

9. Bake 14 minutes at 310F
To make fillings:
1. Scrape seeds from the vanilla bean.

2. Chop white chocolate and place in a mixing bowl.

3. Bring cream, vanilla bean seeds, and pepper to a boil.

4. Pour cream over chocolate. Whisk until chocolate is melted and cream is fully incorporated.

5. Refrigerate until ganache is still soft but will hold its shape, approximately 1 hour.