Student of the Month: Betty Chen, SHA '22
Student of the Month: Betty Chen, SHA '22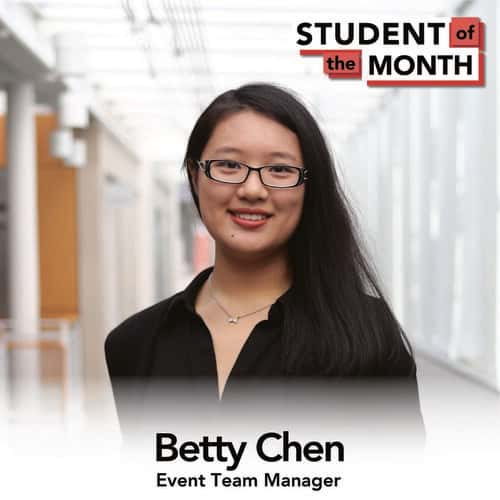 We are thrilled to announce Betty Chen SHA '22 is our February Student of the Month! As the Design team's Event Manager for Gala and Hotel Ezra Coffee, Betty's ideas are always innovative, and her energy for HEC is inspiring. Most recently, when told about Pop-Up's laundry list of last-second changes, Betty took on the challenge in full stride. She arrived the earliest in the morning and left only after cleanup was finished. She single-handedly made all of the centerpieces for Pop-Up and designed a technically complex menu under intense time pressure, with brilliant success.
From the renderings she provides to her well-thought-out ideas, it's incredibly apparent that she allocates much of her free time to HEC. She never complains, consistently meets or beats deadlines, and is wonderful at motivating her team when deadlines grow tight. Read on for a full interview with Betty to get to know this integral member of our team.
Q. Why did you choose the Hotel School?
I did a summer program at Cornell during my high school sophomore summer and felt that the Hotel School was a good fit for me.
Q. What do you enjoy most about being on the Design team?
I really enjoy working with my team. The nature of our work means that we have to spend a lot of time brainstorming, problem-solving, and creating design projects from scratch. Being able to work with my friends Yan (Ziyu Yan DEA'22) and Jason (Jason Ling SHA'23) among others definitely makes the process more meaningful and fun. There aren't many chances to explore my creative side between assignments and exams, so this is the longest time I've spent in a studio crafting things by hand. It's tiring but definitely rewarding at the same time.
Q. What are your favorite things to do outside of school?
Outside of school, I really enjoy cooking and calligraphy. When I'm back home in California (with better weather!), I find myself playing tennis with friends or hiking with my family.
Q. How do you Dare to Do?
"Dare to Do" encompasses so many paths of progress that the hospitality industry or society as a whole can take to keep improving. Personally, I love watching nature documentaries about the earth and its inhabitants, so I find myself attached to the sustainability concept of this year's theme. I also spent a decent chunk of my childhood in Australia, so this summer's bushfires have made a huge impact on me. I hope that events like this and our efforts preparing for HEC can spread more awareness about sustainability and how we can take small or large actions depending on our own capabilities to make a change. I am not a perfect example of living sustainably, but I think a simple change in perspective can allow one to act mindfully regarding our earth.