Student of the Month: Austin Kick, SHA '22
Student of the Month: Austin Kick, SHA '22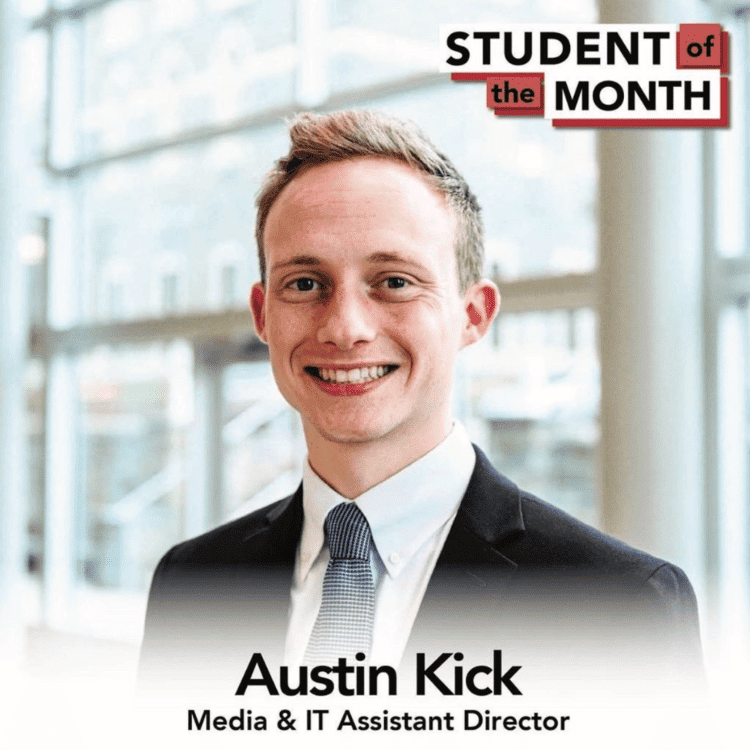 We are delighted to introduce Austin Kick SHA '22 as our December Student of the Month! Austin has been integral to the success of several departments and taken on roles far outside of his job description. He always goes above and beyond to ensure that his work contributes to HEC in a meaningful way and exceeds expectations. Perhaps most importantly, Austin is invested in raising others up, and always takes the time to help fellow members of the HEC community grow and succeed. We could not imagine HEC 95 without him. Thank you, Austin!
Q. Why did you choose the Hotel School?
The Hotel School was always my first choice, and I was ecstatic to join because of the atmosphere, and the type of students here who share a passion for the hospitality industry. HEC was going on when I first visited Cornell, and getting to see that firsthand was awesome. More than that, it was the kind of jobs that I saw people going into after graduating – in terms of location, and the kinds of work people were getting into within the industry, or even outside of the industry. Another factor was definitely the breadth of the alumni network, which I couldn't find any comparison to at other schools.
Q. How did you come to be interested in hospitality?
I originally started in the Culinary Arts, as a chef! I worked in a kitchen during my junior year of high school. While it was pretty great, I realized it wasn't for me, but that was where my passion for the service industry and the guest interaction side began. I still love to cook, and love food, and I feel like every so often, I need to get back into the kitchen. But it was the guest-facing 'people side' of hospitality that really drew me. I work at the Statler right now, which I find fun and exciting, but I'm currently leaning towards consulting which is a nice balance between service and talking to people.
Q. What do you enjoy the most about being with Media and IT?
I'd say the three big things I'm responsible for taking care of is 1) managing our online image, which currently involves doing a complete renovation of our website, 2) maintaining our social media presence, and 3) extending our digital outreach. An aspect I really enjoy about being a part of Media and IT is the impact that we have on people in terms of how they perceive HEC and managing the overall brand image. I enjoy working with different people on the team, and since what we do concerns all of the departments, I find it fun to interact with different teams across the board.
Q. How has working with other Hotel School clubs, like The Grid, impacted your involvement with HEC?
I yearn for creativity, so integrating my design skills into the video productions, audio elements and photography components of working Media and IT have given me a definite edge in fostering that. The Grid also works a lot with the Marketing and Communications team in HEC, and Media and IT relies on a lot of material produced by MarComm, so it all links together.
Q. How do you Dare to Do?
I dare to do by pursuing my passions with purpose for HEC and beyond. I strive to lead my team with humility while also driving others to do their best. I always put my best foot forward and seek to challenge what I believed was possible within the realm of any task at hand.